European Architectural Supply takes great pride in providing truly custom our wood windows and doors for each individual project, and we always consider and evaluate any suitable option a customer may request. Our motto is: "If you can draw it, we can build it." Due to the flexibility of custom work and because of the variety of customer needs and requirements it is difficult for European Architectural Supply to define our "standard" product.
MW88
MW88G2
MW88-Classic
Description
Passive House Spec All-Wood Windows
PHI Certified All-Wood Windows
Passive House Spec Aluminum-Clad Wood Windows
Manufacturer
Makrowin
Makrowin
Makrowin
Frame Width
(below/above/sides)
5.315 / 4.685 / 4.685
5.937 / 5.154 / 5.154
4.685 / 4.685 / 4.685
in
Uf-Value Frame
(below/above/sides)
0.192 / 0.173 / 0.173
0.141 / 0.132 / 0.132
0.187 / 0.184 / 0.184
Btu/(hr·ft2·F)
Ψ-Spacer
(below/above/sides)
0.017
0.017
0.018
Btu/(hr·ft2·F)
Uf-Value Frame
0.178
0.134
0.185
Btu/(hr·ft2·F)
Ucog-Value Glass
0.088
0.088
0.088
Btu/(hr·ft2·F)
Uw-Value Window
0.129
0.116
0.131
Btu/(hr·ft2·F)
AluInside
SI 82
AWS 90
Description
PHI Certified uPVC Windows
Passive House Spec Best-Value uPVC Windows
PHI Certified Aluminum Windows
Manufacturer
Schuco
Schuco
Schuco
Frame Width
(below/above/sides)
4.72
4.72
4.61
in
Uf-Value Frame
(below/above/sides)
0.133 / 0.134 / 0.134
0.194 / 0.194 / 0.194
0.176 / 0.176 / 0.176
Btu/(hr·ft2·F)
Ψ-Spacer
(below/above/sides)
0.016
0.016
-
Btu/(hr·ft2·F)
Uf-Value Frame
0.133
0.194
0.176
Btu/(hr·ft2·F)
Ucog-Value Glass
0.088
0.088
0.088
Btu/(hr·ft2·F)
Uw-Value Window
0.114
0.134
0.128
Btu/(hr·ft2·F)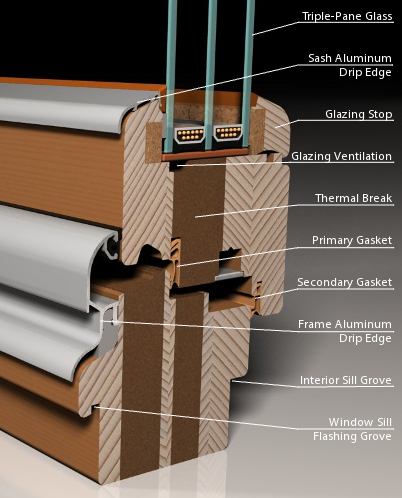 Sash Aluminum Drip Edge: Protects the horizontal surface of the sash, which is vulnerable to damage from water and ice that tend to accumulate at this location. Extruded aluminum drip edge is ventilated from below.
Glazing Ventilation: This grove is critical to ventilating any moisture that may condense along the cold zone around the insulated glazing.
Frame Aluminum Drip Edge: Protects the part of the frame most subjected to rain, snow and ice accumulation. Includes a drip edge, thermal break and a seal against the primary gasket.
Primary Gasket: The first barrier against air infiltration.
Window Sill Flashing Grove: Milled into the frame to provide an attachment point for sill flashing. Can be customized for wood, aluminum and cast stone sills.

Double-Pane Argon Filled Low-E Glass: For a total of 1' of unparalleled thermal protection. With a COG u-value of 0.19 it just does not get any better. Fifteen other types of glass are also available, including laminated and tempered glass.
Thermal Break: Provides a thermal break between the sealed air chamber and the aluminum, dramatically reducing the heat transfer from the metal.
Glazing Stop: Pre-finished for perimeter protection. Attached with invisible pins concealed under the seal. Removable for glazing repair.
Secondary Gasket: Omitted by most window manufacturers. Provides a true weather-tight seal.
Interior Sill Grove: Makes for an easy installation of the interior sill.
LUMBER
All of our wood is selected from sustainable growth areas. Our offering includes Clear Spruce, Clear Pine, Oak, Mahogany and European Larch.
GLASS
Insulated glass starting at 3/8" thickness, with the following options: Low-E, Argon-filled, laminated, tempered, restoration glass, privacy glass, colored glass, leaded, obscure, bent and curved shapes, motorized and internal blinds, bullet and impact resistant glass. Read more...
HARDWARE
Homeowners, architects, and industry professionals in North America are discovering the superior function of European style windows and doors. Due to their advanced functional benefits and superior construction, tilt-turn windows and doors are becoming more and more popular in North America. The tilt-turn window, engineered to withstand a century of harsh European winters, can also endure fierce coastal and island hurricanes. In fact, a properly designed tilt-turn window can satisfy the strict window manufacturing codes of Miami-Dade County, Florida.
FINISH
All of our products are pre-finished at the factory like handcrafted furniture. Our three-step finishing system will far surpass any finish that can be applied on the jobsite. Before the glazing is applied the entire window/door in dipped into a wood preservate. Next, the two finish coats are sprayed on. EAS offers 25 rich clear stains and an infinite number of solid colors. EAS uses RAL paint formulations to match any Sherwin Williams or Ben Moore solid paint colors.